watercolors: a brave new world of bible journaling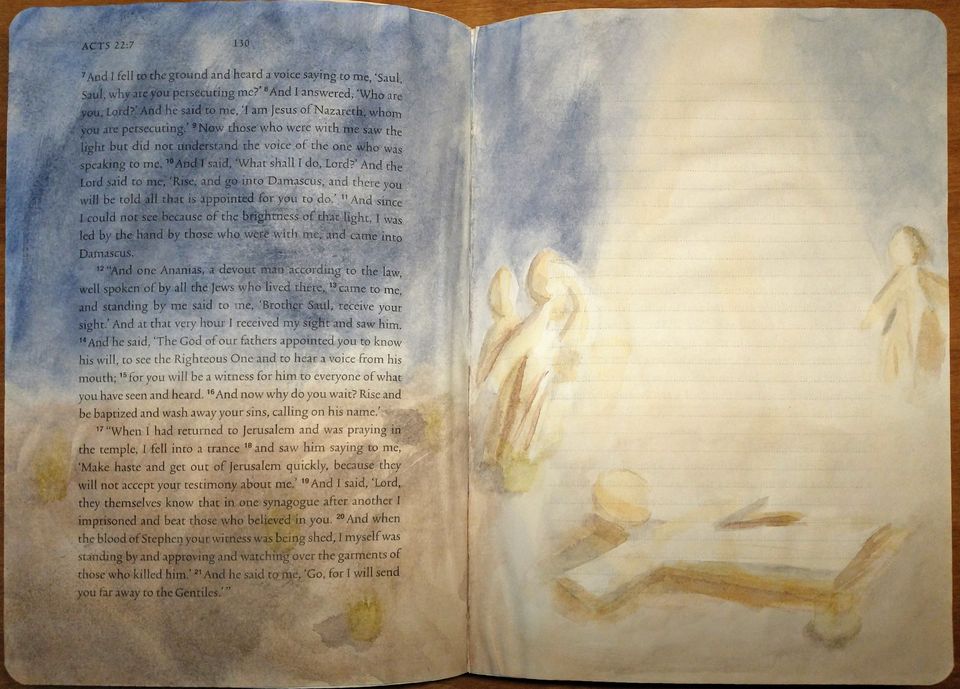 Are you the type to carry a second notebook so you'll never mar the pages of your hundreds-of-dollars-worth study Bible? I'm not! I fill every margin and blank line with notes that I know will actually be incomprehensible to me a year from now.
According to its dedication, I got my study Bible on June 1, 2012. I would have just graduated from 5th grade at that time–barely old enough to spend the summer in the youth group. I can tell I was quite precocious at the time because I felt the need to take profound notes like this one in bold, permanent, black gel pen: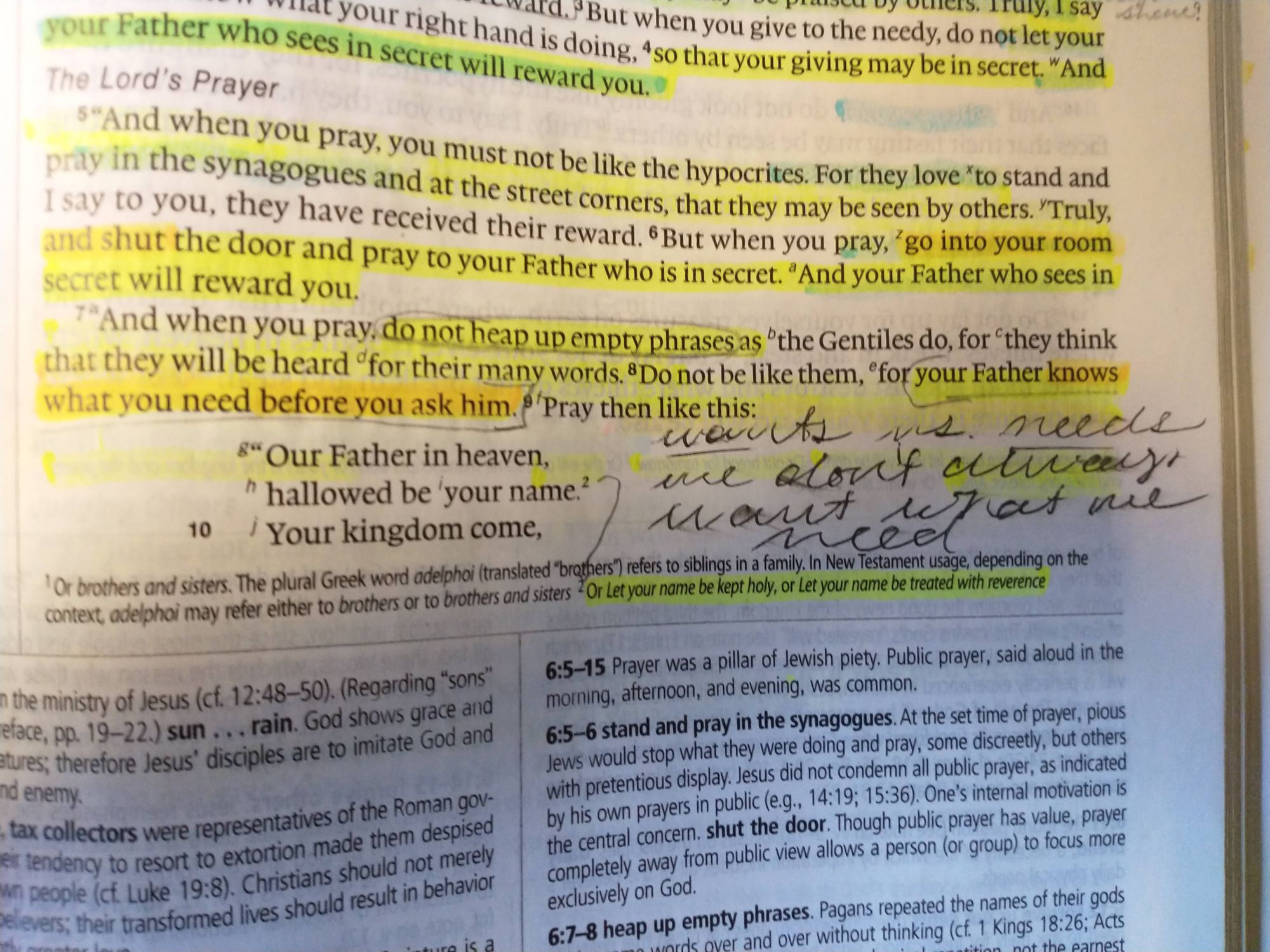 I actually remember taking this note! I was so powerfully moved by the profundity of this statement that I searched my bag for my favorite pen to permanently memorialize this prophetic message that seemed to be delivered to me on the dovelike wings of the Holy Spirit himself! And even though the last sentence is a little tongue-in-cheek, my feelings at the time were not. I look back now and see how plain and simple it is to understand that "We don't always want what we need," but if I hadn't learned it that day while laying on my bunk at church camp, where would I be now?
I find it extremely beneficial to discover these little archaeological nuggets from nine years ago. They remind me that even the simplest truths are beautiful when they're delivered for a specific time and place. As long as I keep taking notes like this one, I'll never take for granted that learning truth is a process that requires years of study, meditation, and careful listening.
If you have a favorite note you've made in your Bible, let me know in an email!
Now, as you may expect, there are some people who take their notes to a whole new level! They are artists and visionaries who can take long lines of text and turn them into beautiful works of art!
My favorite of these artists is Sandy Allnock (I put a link to her blog below). She is capable of boiling down an entire page of scripture into a small phrase on a beautiful picture. I've been following her on YouTube for a long time now and consider her one of my biggest artistic inspirations!
Here's a quick sample from the first page of her sample gallery!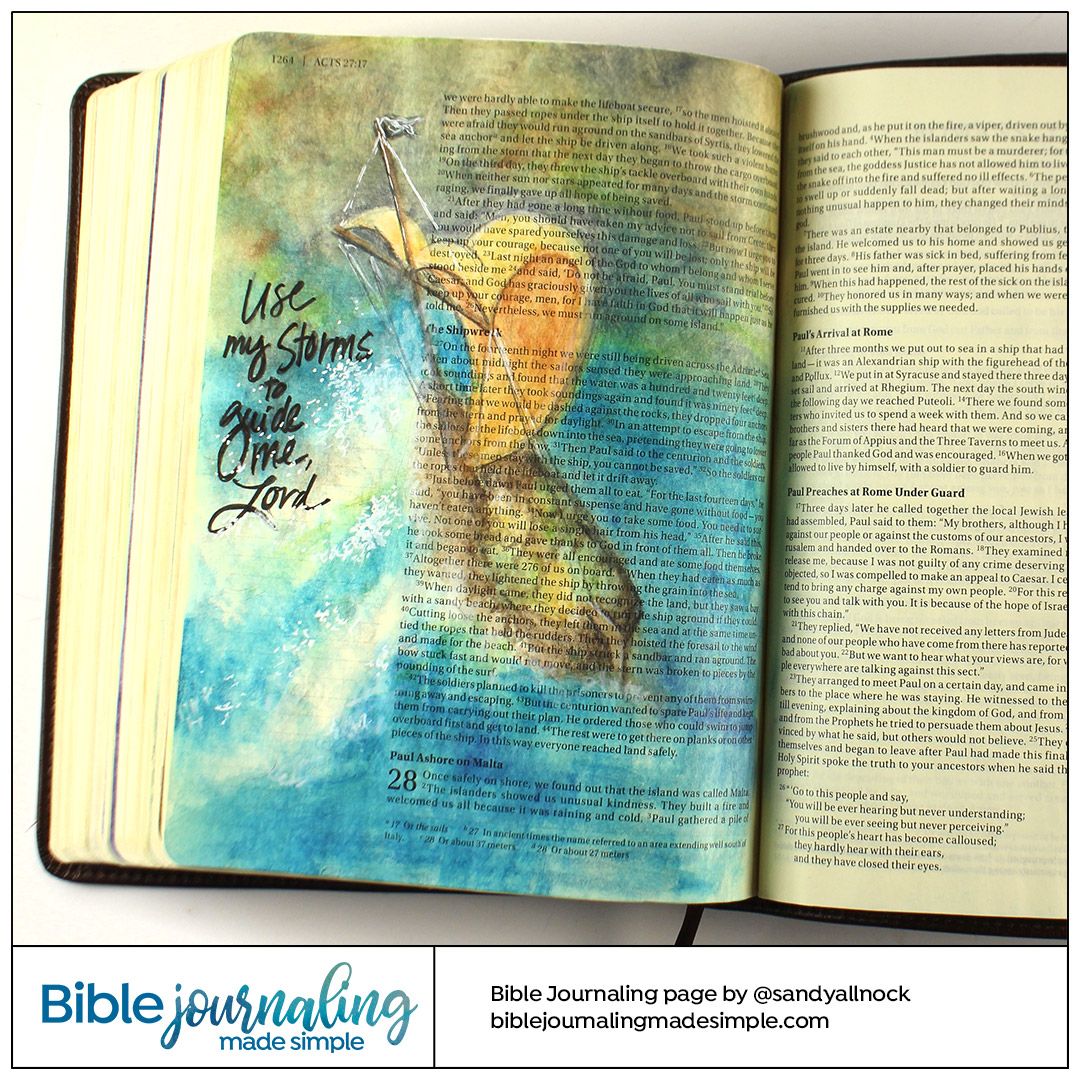 Here's the link to her site:
But if you do a quick image search for "bible journaling," you'll find the full array of styles, interpretations, and media:
Now, rest assured! This is not a new and trendy thing. In the olden days, they called this "scripture illumination," a tradition that's still practiced today. I believe this tradition has reached its culmination in the St. John's Bible. I am actually so moved by this project that I plan to go see it in person this year before I get snowed in.
what I've been up to
I've started my own journey to illuminate the scripture, albeit much more slowly and less skillfully.  In my next post, I'll show you what I've done so be sure to subscribe!
You can click the following link or the subscribe button at the bottom of the page to support my work and get an email every time I make a new post!