making hand-pulled noodles for the first time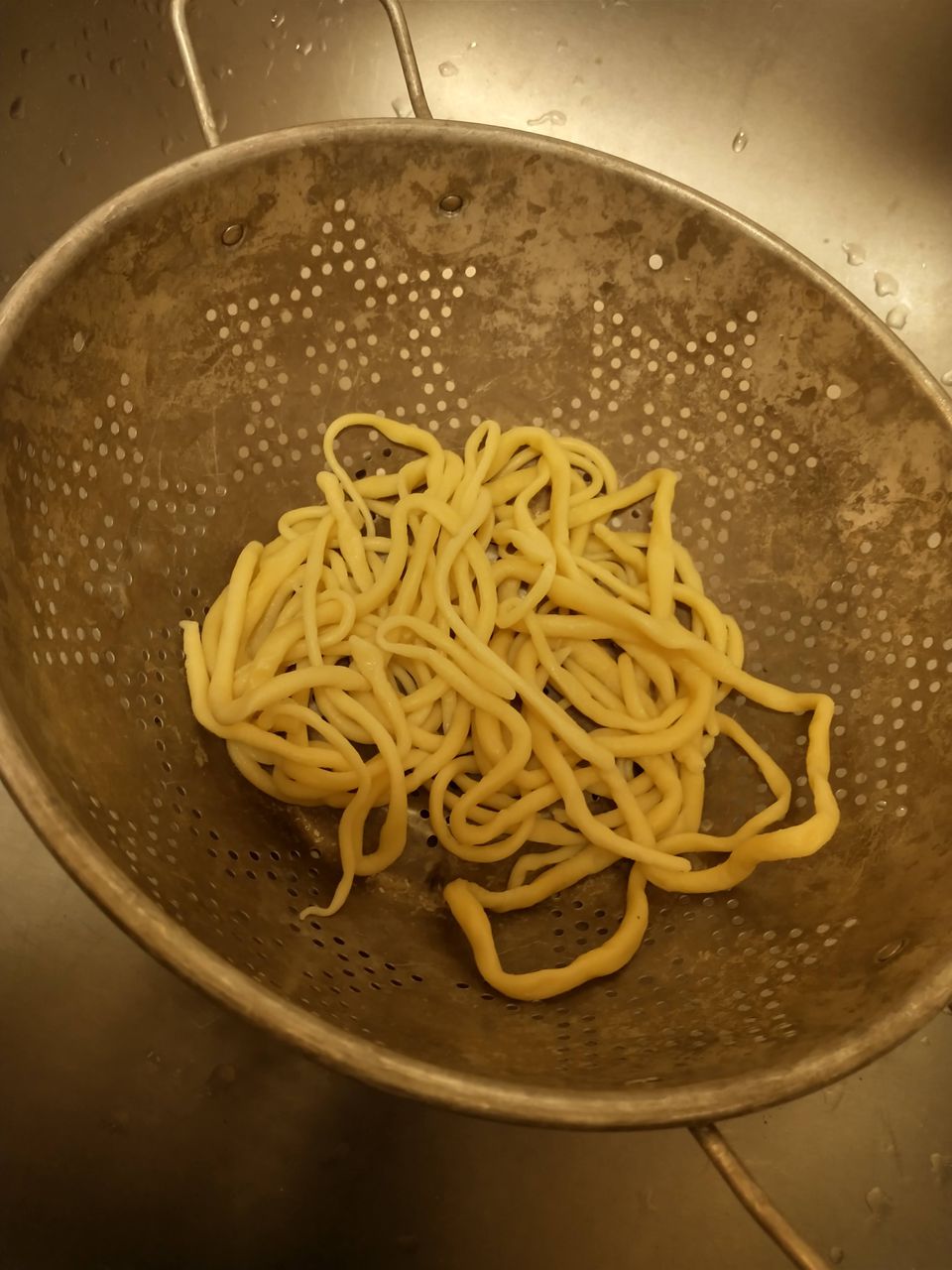 This could be considered a continuation of my recent (extremely popular) post about recipes for broke college students: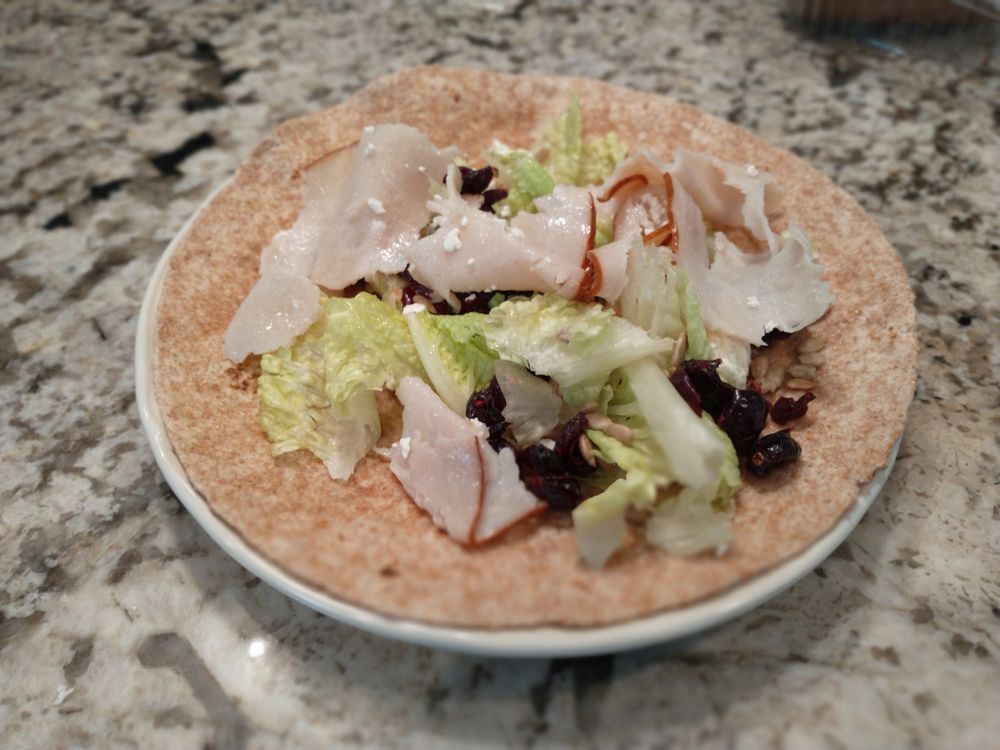 To tell this whole story, I have to start at the beginning: I follow a blog by Michael Kirk called Efficiency is Everything. My favorite (and probably the best parts of the blog) are his articles about food:

Using his data, you can pretty much figure out the perfect engineer's diet: optimized for efficiency in nutrients, taste, and (most significantly) price. His cookbook is really awesome! It has recipes that are really yummy and nutrient-dense that average out to $3 per day (that's per day, not per meal). Needless to say, this was too scintillating for my left brain to ignore, so I drank the Kool-Aid.
Since flour is one of the most efficient and nutrient-dense foods in existence, I've been eating cooked flour in many different forms. My favorite of all of these is plain boiled flour globs! (a.k.a. Noodles)
Needless to say, this was too scintillating for my left brain to ignore, so I drank the Kool-Aid.
Michael suggests using a noodle maker, but everyone knows that the best noodle maker on all of the internet is Peter from Peter Pulls Noodles! These are Peter's own words:
Who am I? And why should I be teaching about hand pulled noodles? There is no doubt that I am definitely the person to be teaching and demonstrating hand pulled noodles. I can pull noodles that are thin enough to thread a needle. I have been researching and studying hand pulled noodles almost 5 years. Also, I have served many, many hand pulled noodle banquets for my family, friends, and extended family.
With self-confidence like that and videos like the one below, I definitely consider him my noodle role model:
Unfortunately, he gives his noodle recipe in grams, but I only have measuring cups in my apartment. Because I was too lazy to search DuckDuckGo for the conversion, I just used Michael Kirk's recipe from Efficiency is Everything... and let me tell you: it was a disaster.
making my noodles
I used Michael's ingredients, but Peter's process. I kneaded, pulled, pounded, and waited for a long time until I was able to turn this: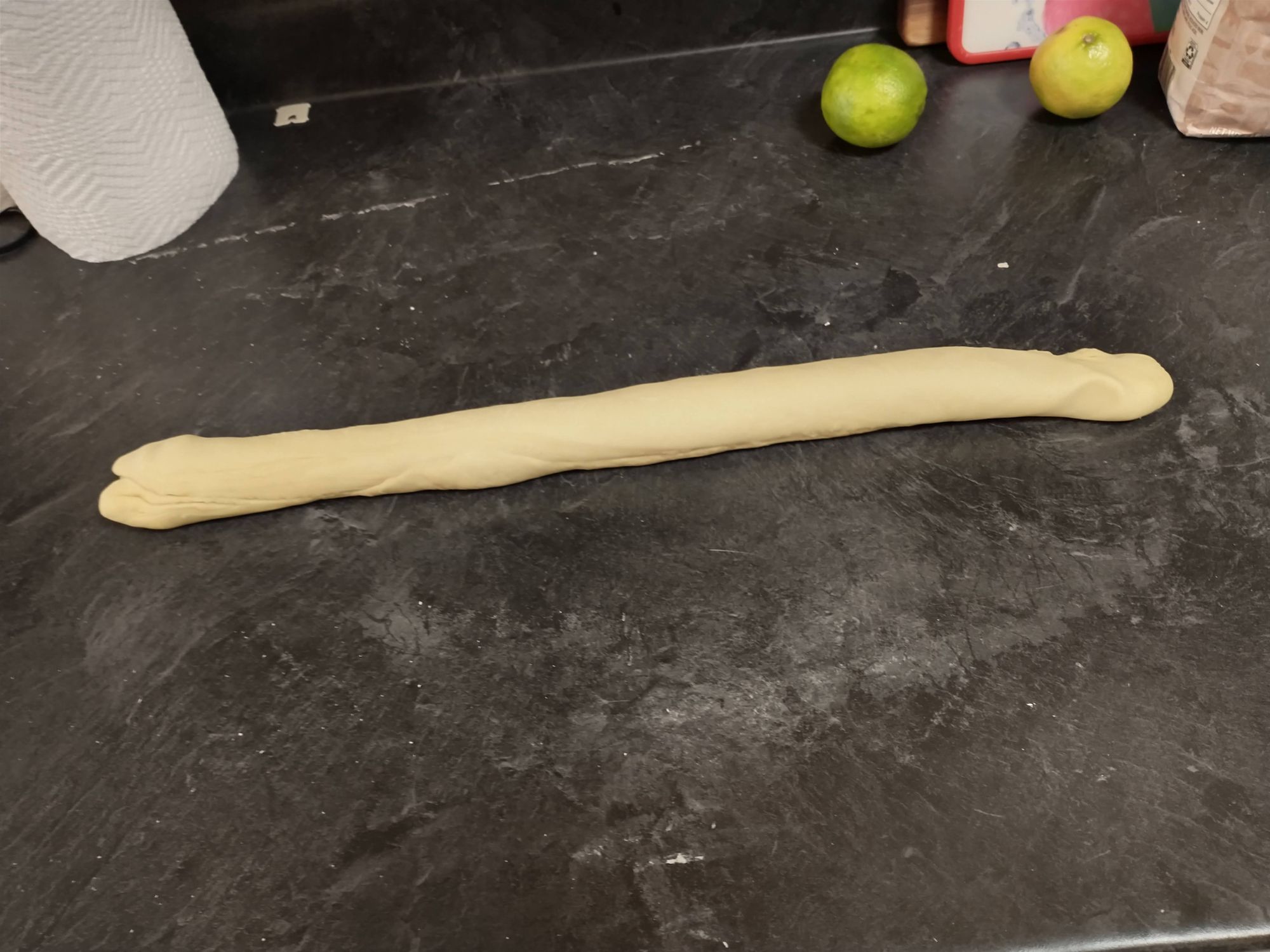 into this: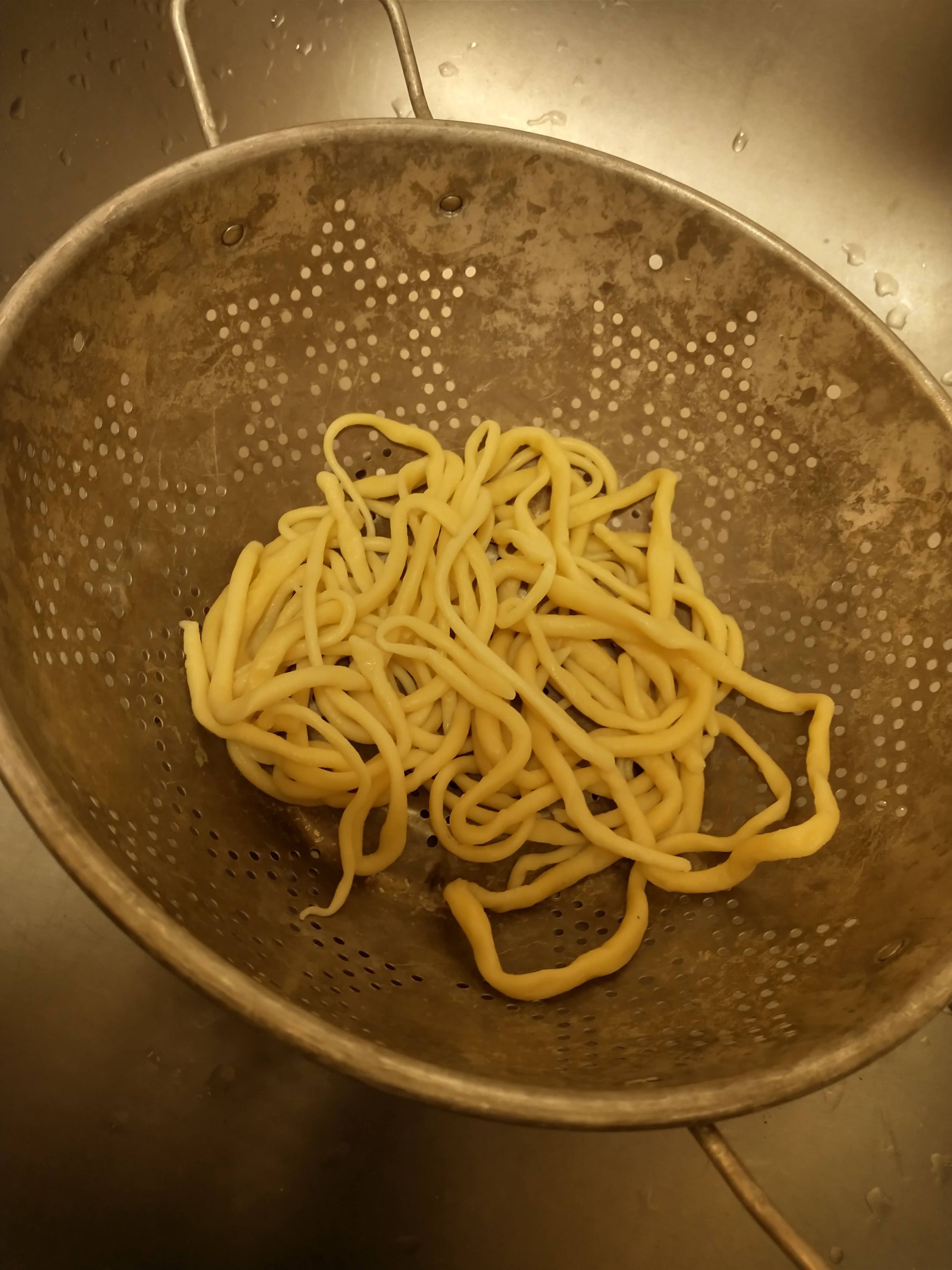 On the surface, not too bad for my first try! But in reality, my dough was so brittle that I actually ended up making each noodle one by one by hand. That was waaaaayy too much work!
attempt two
Instead, I decided to do something that I learned from working in the lab: serial binary divisions. In simple terms, that just means cut the dough in half, then in half again, then in half again, then in half again, then... until you get the size you want.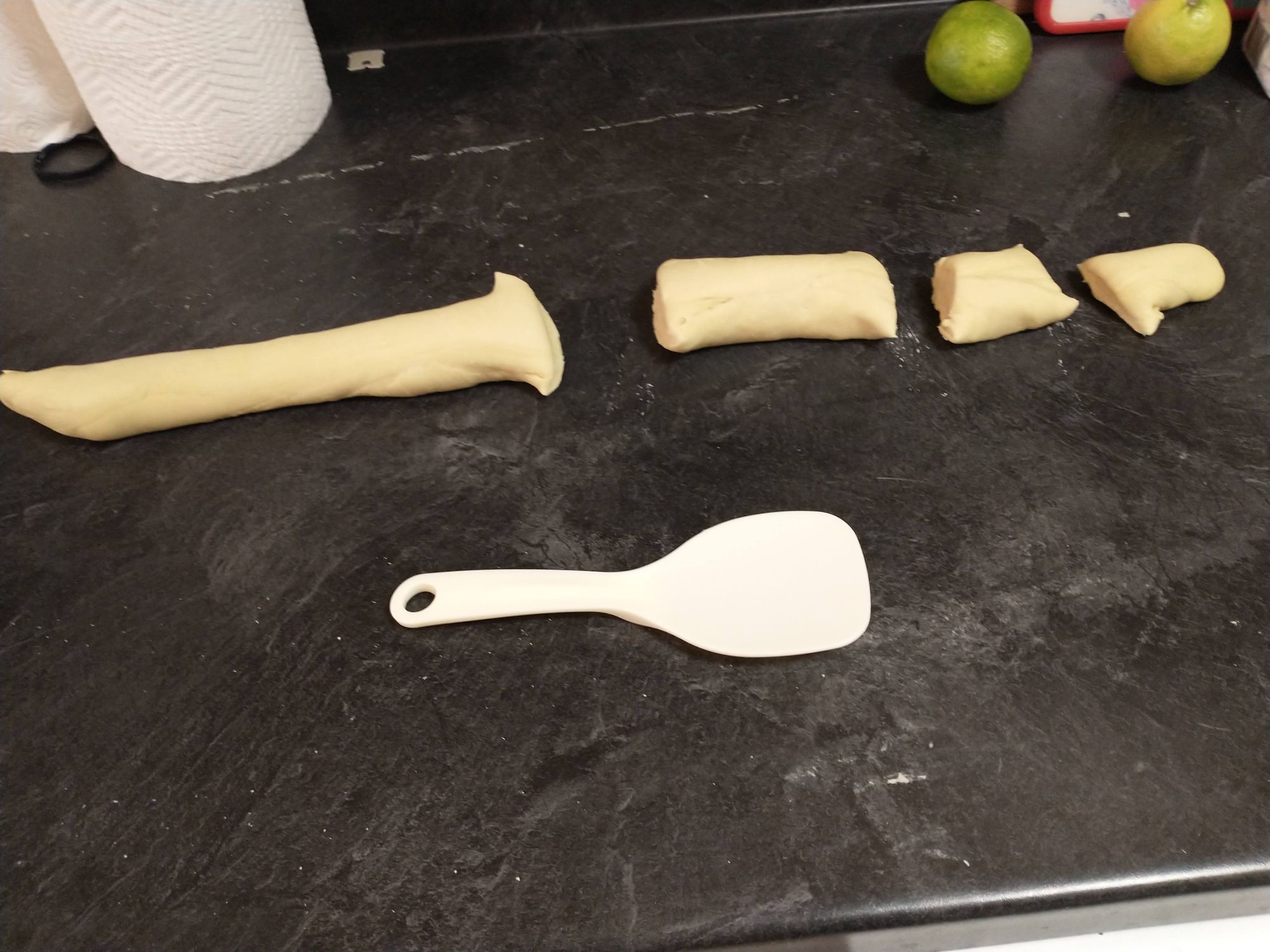 This process actually made some really awesome gnocchi!
I added all of my noodle attempts to cream of chicken soup and it was all delicious!
Let me know what you think by sending me an email:
subscribe to get email updates and support my work
You can click the following link or the subscribe button at the bottom of the page to support my work and get an email every time I make a new post!